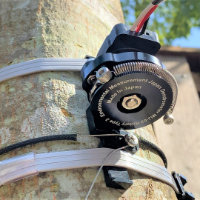 Dendrometer Circumference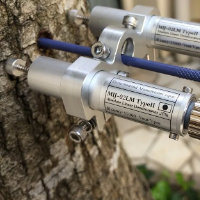 Dendrometer Linear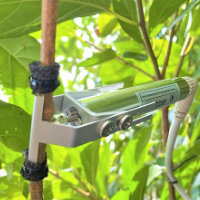 Dendrometer Stem (thin)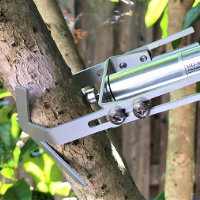 Dendrometer Stem (thick)
What is dendrometers?
A dendrometer is a sensor that measures the amount and speed of growth of tree trunks. It is divided into two types, such as the major type, which is a visual confirmation type, and the electric type, which is manufactured by our company. Since the electric type can output some kind of electric signal such as voltage and resistance, it can be automatically recorded at an arbitrary time interval, and at the same time, high resolution can be obtained. In addition,  the electric type has a resolution of about 1/1000 of that of the major type, not only the amount of growth but also the time change (every few minutes) such as water potential and sap flow can be correlated with important parameters, so it leads wide range of analysis.
Can you see μm changes on your eyes?
Combined with a data logger, our dendrometers enable both diurnal and seasonal changes in hypertrophic growth, that is, automatic reading over a long period of time at short intervals. In addition, stable measurement in μm units, which is not possible with the visual type, but our dendrometer is possible to see in μm units.
Dendrometer Type 3 is an evolution of Type 2 that is easier to use and non-destructive.
Some users may be using a combination of Type II and MIJ-12 waterproof logger, but Type 3 has the same cable connector as Type 2, so the logger can be used as it is.
You can select from 4 types of dendrometers according to your application.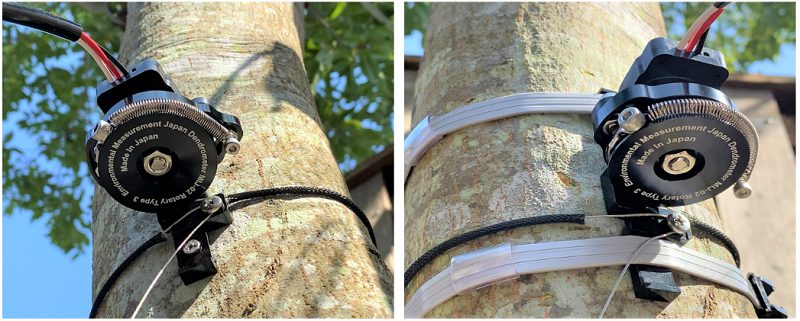 Circumference
Optionally can be changed to Nondestructive Smaple:Φ above 40mm
Features
・Selectable nondestructive or screw mount (Need to purchase nondestructive KIT for nondestructive method)
・Wire typed dendrometer allow measurement immediately after set to measurement object.
・Potentiometer and pulley can be rotate 30 degree
・Set the wire position close to the measurement object (5mm) that allow to obtain absolute value
・Wide measurement Range (30mm)
・Ratiometric output lead to avoid potentiometer thermal characteristics
・Wide range of  measurement Object (Measurement Object above Φ40mm~inifinity)
Dendrometer Linear
displacement measurement for xylem, or bark and cambium.
Features
・Basically, target is the tree trunk
・Adjustable securing bracket and spring rate allow to measure thin branch, fruit, crops and etc.
・Equipping the non-backlash potentiometer allow to read daily expansion and contraction.
・Reduced thermal characteristic by offsetting the linear thermal expansion coefficient of shaft and fixed nail.
・Avoid the thermal characteristic of potentiometer by using ratiometric output
・Minimum friction help to setting spring constant low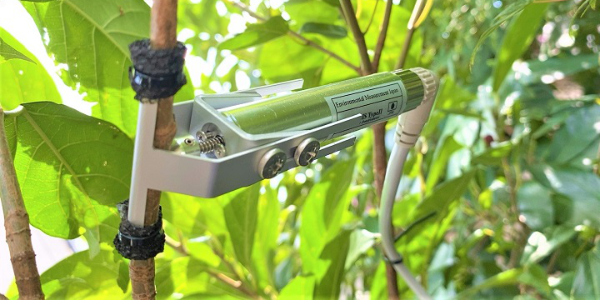 Nondestructive Dendrometer Stem (thin)
Sample: Φ1.5mm~23mm
Features
・Nondestructive 
・High temporal resolution, High resolution, and unattended measurement
・Wide measurement range φ1.5~23mm 
・Avoid the thermal characteristic of potentiometer 
・Minimum friction help to setting low spring constant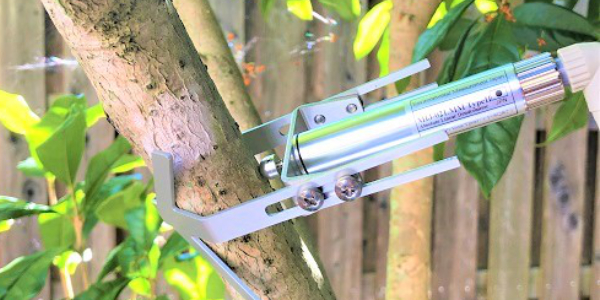 Nondestructive Dendrometer Stem (thick)
Sample: Φ18mm~50mm
Features
・Nondestructive 
・High temporal resolution, High resolution, and unattended measurement
・Wide measurement range φ18~50mm 
・Avoid the thermal characteristic of potentiometer 
・Minimum friction help to setting low spring constant