MIJ-12 Waterproof Logger (1ch Logger)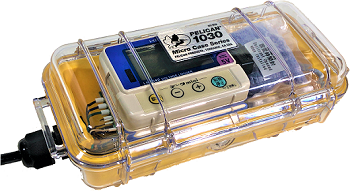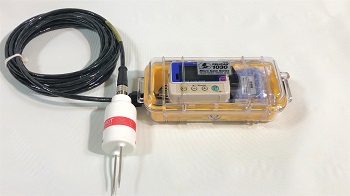 Overview
Installation of soil moisture sensors is often wide-area multi-point observation, so-called scattered observation.
The challenge is how to recover the many sensor outputs. There is also a method of using a data logger that can input multiple points, but there is a limit to the extension of the sensor cable, and the longer it is, the worse the handling will be, and the noise and trouble will increase.
For loggers with high power consumption, it is also necessary to prepare peripheral devices such as solar power generation and batteries. In such a case, if MIJ-12, which has a waterproof capacity equivalent to IP67, is adopted, the logger part can be installed on the ground surface, or everything including the logger can be buried in the ground..
MIJ-12 has a logger, circuit, and power supply built into a waterproof and impact resistant case, so it is compatible with the soil moisture sensor and can be used in various places. When high-precision soil moisture measurement is required, there are various combinations such as ADR type theta probe, SM150T, and when cost is prioritized, such as Meter's EC-5 and optical sensor MIJ-14 series.
Features
・Can be set on surface or lay underground
・Suitable especially soil moisture sensors and long term field observation.
 (Logger circuit, and power source goes into waterproof tough case)
・Standalone system by setting preheat electronic board(PR-01) with 1ch logger
・PR-01 integrated with power supply: Supported for 2.5 and 12v driving sensor 
 (Free Option 2.5V can be changed to 5 V)
PR-01 Base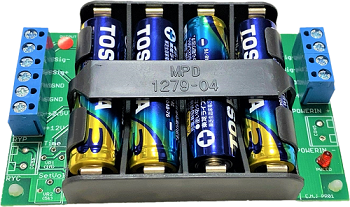 You may not need PR-01, If connecting MIJ-03 or MIJ-14 sensor that do not require power. 
Specifications
Size

W205×D100×H60 mm

Data collecting

Through

LR5092 or LR5091

 to PC

Weight

560 g

Power supply (output)

4 AA Alkaline, >1 year using with 2sec preheat

Measure range

LR5041:±50mV, LR5042:±5V, LR5043:±50V

Recording Interval

Sec: 1, 2, 5, 10, 15, 20, 30

Min: 1, 2, 5, 10, 15, 20, 30, 60 

Backup

No data erasing occur when Battery exhaustion or exchanging battery

Data storage

60,000 data

Battery Life

> 1 year (Interval 10min, DC12V/20mA sensor)