Portable soil moisture sensor: SM150KIT

SM150KIT
The SM150 Soil Moisture Kit provides an affordable and easy-to-use tool for obtaining reliable moisture measurements with minimal soil or substrate disturbance. 
Features
・±0.03m3/m3(±3.0%F.S.) accuracy
・Portable and easy to use
Easy to use
Operation is as simple as inserting the SM150T into the soil, pressing the read button and reading. Note that although the SM150T sensor has a built-in temperature sensor, the dedicated reader HH150 does not display the temperature measurement.
The HH150 is a lightweight and extremely easy to use read-only device, but it cannot record data or transfer data to a PC. We recommend combining with HH2 for those who want to transfer data to a PC.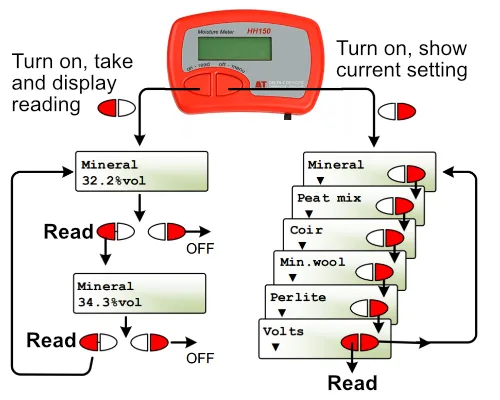 Portable soil moisture sensor + temperature measurement
| | | |
| --- | --- | --- |
|   | Soil moisture | Soil moisture+ Temperature |
| SM150KIT | 〇 | × |
| SM150T + HH2 | 〇 | × |
| WET2 +HH2 | 〇 | 〇 |
HH150: SM150 KIT accessories

Handy Logger HH2

The HH150 is a display unit for direct reading only and data cannot be saved to a PC, etc.
It is easy to operate and can be used by anyone.
It is recommended for measurement while carrying.

For those who want to save data while carrying it around, we recommend combining it with the Handy Logger HH2.
The SM150 kit is already substrate-calibrated for perlite, coconut fiber, peat, mineral fiber and soil, making it ideal for checking the uniformity of growing conditions in different types of growing media. The SM150T is easy to insert and install, and the thin and sharp rod minimizes soil disturbance.
Specifications for SM150T
Power requirement

DC5~14V(18mA) 

Output

DC0〜1V(0〜0.6m3/m3)Output 0V in air.




Outputs more than 1V in fresh water.




*100% fresh water is a different condition than 100% soil VWC.

Sensor calibrations
Individual sensors are interchangeable
Calibration coefficient

θ:volumetric water content m3/m3、VWC%=m3/m3×100、V:Volt、√ε:dielectric constant

Mineral Soil:
θ=-0.0714+1.719V-3.7213V^2+5.8402V^3-4.3521V^4+1.2752V^5

Organic Soil:
θ=-0.039+1.8753V-4.0596V^2+6.3711V^3-4.7477V^4+1.3911V^5

Dielectric constant:
√ε=1+14.4396V−31.2587V^2 +49.0575V^3 −36.5575V^4 +10.7117V^5

Response speed

0.1sec

Temperature Range

Operation temperature range: -20~+60℃

Environmental

IP68

Cable (optional)

5m cable


Extension cable (Maximum extension is 100m)
SM150KIT 90 cm long cable is included
Accuracy

±3%(at0~60%、0〜60℃)

Salinity range

±5%(at0~60%、10〜1000mS/m) 

Size/ weight

Overall: 143 x 40 mm diameter
Rods: 51 mm x 2.5 mm diameter
Weight: 0.1 kg (exc. cable)


Connection

Brown/PWR 0V (GND),
White/PWR+ (Preheat)
Blue/Signal+
Black/Signal-
Gray/Temperature+
Green/shield

Specifications for HH150 (Read out device)
Display

VWC(%) or Raw data (mV)

Accuracy

0.5% of full scale over 5-40 °C
(±7.5mV – negligible effect on SM150 accuracy)

Resolution

0.1% of voltage reading

Battery life/standby life

2 x GP alkaline AAA/ 10000 readings/1 year