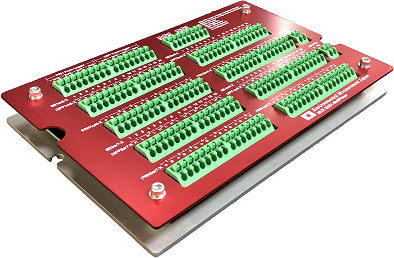 Feature

・Using Semiconductor switch so life time last long

・Compact size and easy to handle

・Maximum Two MUX32/64 can be connected to MIJ-01 

・Preheat and Diff can be enhanced so many power supply needed sensors can be connected
Over View
This MultiPlexer is enhancing analog input for MIJ-01 Data Logger. It equipped the 4set of enhancing circuit which can enhance the DIFF1ch to DIFF8ch and also it can enhance eight times preheat. Two MUX32/46 can be connected to Logger so that DIFF can be 64ch and SE can be 128ch. 
The purpose of MUX32/46 is lower the 1ch cost.
Specification

Input

32ch Diff or 64ch SE analog (accept K&T thermocouple)

Logger+MUX1(qty)

DIFF:     MIJ-01+MUX=4+32=36ch




SE     :     MIJ-01+MUX=8+64=72ch 

Logger +MUX2(qty)

DIFF:     MIJ-01+2×MUX=32+32=64ch




SE     :     MIJ-01+2×MUX=64+64=128ch

Preheat output

32ch

Power supply

From MUX power port of MIJ01




2nd MUX will be from 1st MUX

Operating current consumption

<5mA

Standby current consumption

1mA




(Logger at start up but no current consumption at sleep mode)

Operating environment

-25 to 60℃/ >90%RH




*Avoid condensation since it is not waterproof




*Please use waterproof case, desiccant, and cable gland at field observation

Size

176×116×22mm(Including maximum protrusion part)

Weight

364g

Cable Size

AWG24〜16(φ0.52〜1.29mm), screw-less (pressure spring type) 

Material

RoHS

Accessories

Signal cable , Power supply cable 

Manual

Depending on MIJ-01 Data manual