MIJ-Linear Temperature Probe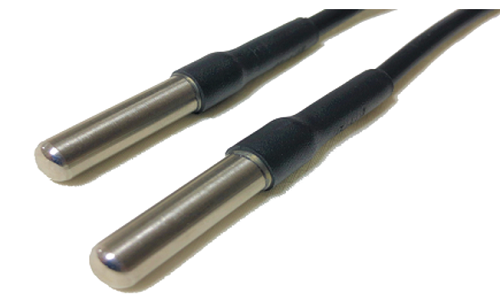 Feature
・Precision is comparable to pt-100 class A

 

・Large output

 

・Kelvin temperature can be directly read as mV

 

・Easy to convert to Celsius

 

・Can be read with both SE or DIFF

 

・SUS304: Resistant to corrosion

 

・Recording with 0.1 Deg resolution, if using 5v range and 1mV resolution of Logger
MIJ-LTP

Developed temperature probe with high precision and linearity based on IC temperature sensor.
Can be used for measuring temperature (soil, water and atmosphere etc).
If using thermistor, it has to be used with logger because of B-constant value; using thermocouple will be high linearity but no high precision; for using RTD will need shunt resistor and other accessories and cabling will be complicated and cost will be expensive.
LTP prioritize for high precision, usefulness, fastness property.

Specification

 
Accuracy
±0.3 Deg Typ. ±0.5 Deg. Max at 25 Deg
±0.4 Deg. Typ. ±0.8 Deg. Max. at 0 to +70 Deg
±0.5 Deg Typ. ±1.0 Deg. Max. at -25 to +105 Deg
Response 
At 90 Deg. of unstirred water22 sec (90%)
Output Range
–25 to 105 Deg. (2480 to 3782 mV )
Operating Temperature 
-45 to +125 Deg.
Power
7 to 30VDC
Current Consumption
<0.5mA未満
Pin assignment Diff Connection
Yellow/Power+
White/Power G
Orange /Voltage output+
Gray/Voltage output G
Pin assignment SE Connection
White/Gray  or both to Power G
Yellow and Orange common to Diff
Cable
5 m
Conductor Diameter
AWG24 (φ0.51mm)
Kelvin Temperature Conversion
2988.88mV=298.888K
Celsius Temperature Conversion
(2988.88mV-2732)/10=25.688 Deg.
Conversion Formula when using MIJ-01
(X001-2732)/10 Resolution:0.001deg.